We have recently released an OLX Clone Script – a new theme for classifieds, which follows the design concept of OLX websites. If you are in classifieds business or considering starting a classifieds site, you may have heard about the OLX – a platform with millions of daily users in different countries.
We have noticed that many users tend to choose popular classified theme clones for their websites rather than creating their own template. Since OLX is a good example for a successful classifieds website, we decided that you may also want to use it for your website.
Design approach
OLX operates in many countries and, although, the websites are similar, there are still some regional differences in design. When creating the OLX theme, we have thoroughly studied all of OLX themes and took the best from them; as a result, we came up with an OLX theme encompassing the best approaches in design.
In this post, we would like to go over the OLX clone that our team has created and give you a better idea of how you can use it for your website.
Header
The OLX header is compact and does not have a main menu. It only has a logo, a button to add a listing, and a user profile icon. We have made the OLX theme header compact similar to OLX but added a currency selection icon and user location option.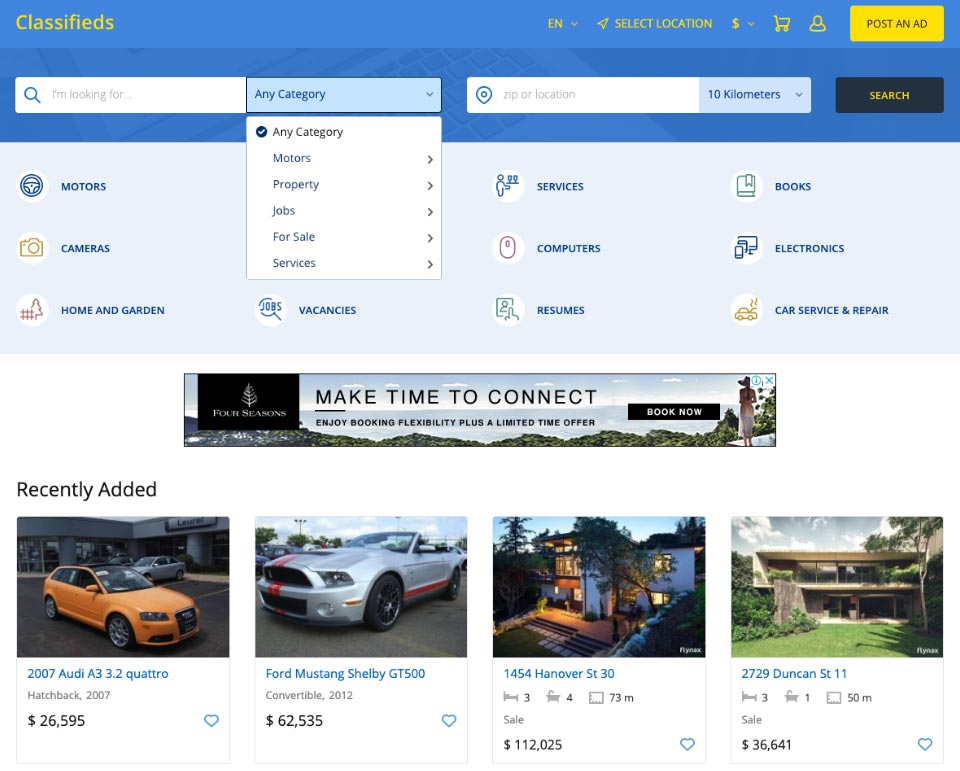 Search
Right below the header, the user may instantly run a search for a particular listing. The user may search by keyword in specific categories as well as from distance from a search location.
Section with popular categories
If you know your website audience, you probably know which of your site categories are most popular with users. The section with popular categories right below the search bar allows you to place most popular categories on your site under it allowing users to click on any of the categories and proceed to viewing listings under it.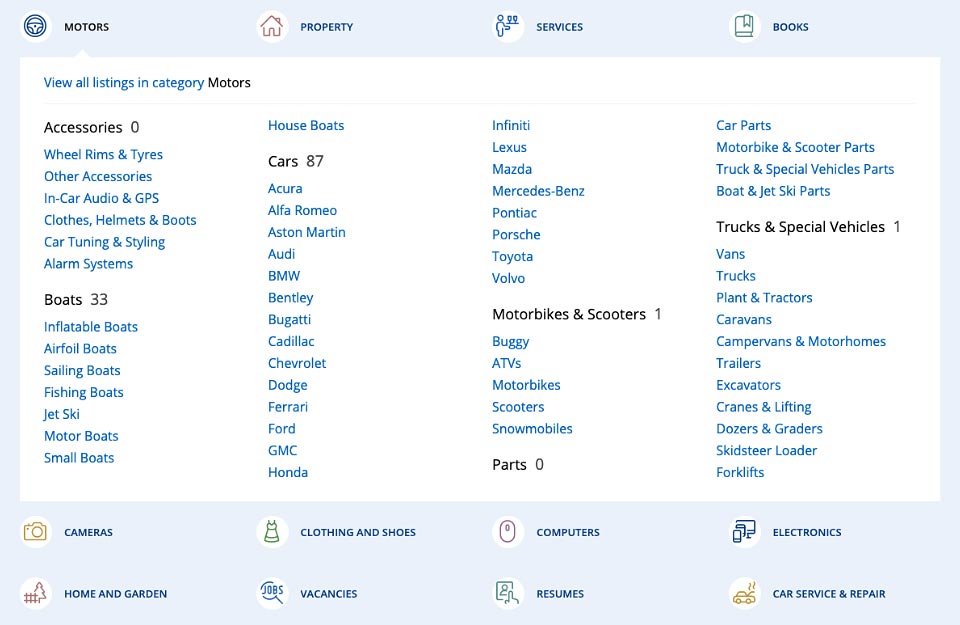 We have practically mirrored this section from OLX, each of the category in the section is represented by an icon and subcategories are shown as links. Flynax admin panel offers you hundreds of various SVG icons, which you may select to visually represent a category.
Banners
This section may be added to the template if you wish to enable it. Flynax offers advanced banners functionality allowing you to place banners in different areas of your website. The section between the header and the content seems to be the perfect spot for a banner. You may add banner ads to this spot and various other areas across your website right from admin panel without having to insert them manually into html markup.
Content area
The content area is completely free of any filters, boxes, plugins or any other modules which could somehow take users' attention from the ads. The ads span across the entire width of the theme giving a user an overview of the ads posted on the website. The OLX theme does not offer pagination, and as a user scrolls to the bottom of the page, there is a "load more" button to fetch more ads and it acts as an infinite scroll allowing a user to load more and more ads while being on the same page.
The OLX theme features a nice hover effect on preview pictures of ads. The effect allows a user to view the ad pictures without the need to navigate to an ad details page. By default, up to five pictures may be previewed, a user simply needs to hover and move the mouse cursor along the ad preview photo to see it change.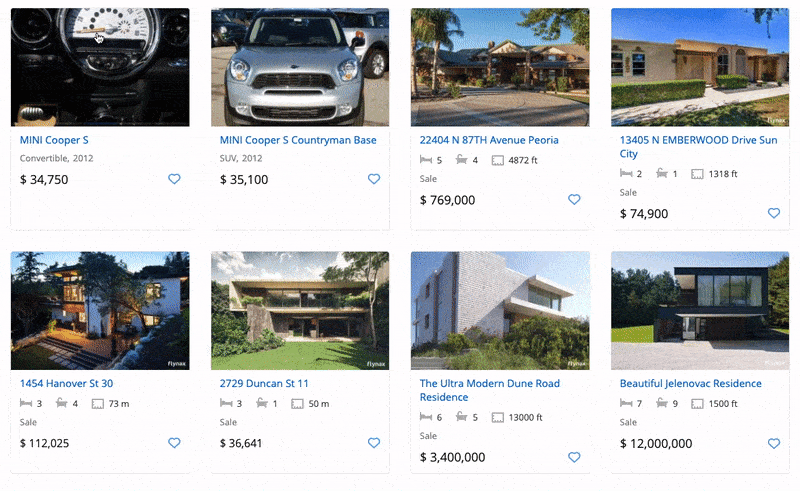 Listing details page
The ad details page is a place where you may showcase all of your website functionality, such as filters, recent or similar ads, price history, street view around the ad location (if it is a property), a gallery to view the ad photos, a credit calculator box, and other functionality that you may wish to place on the ad details page.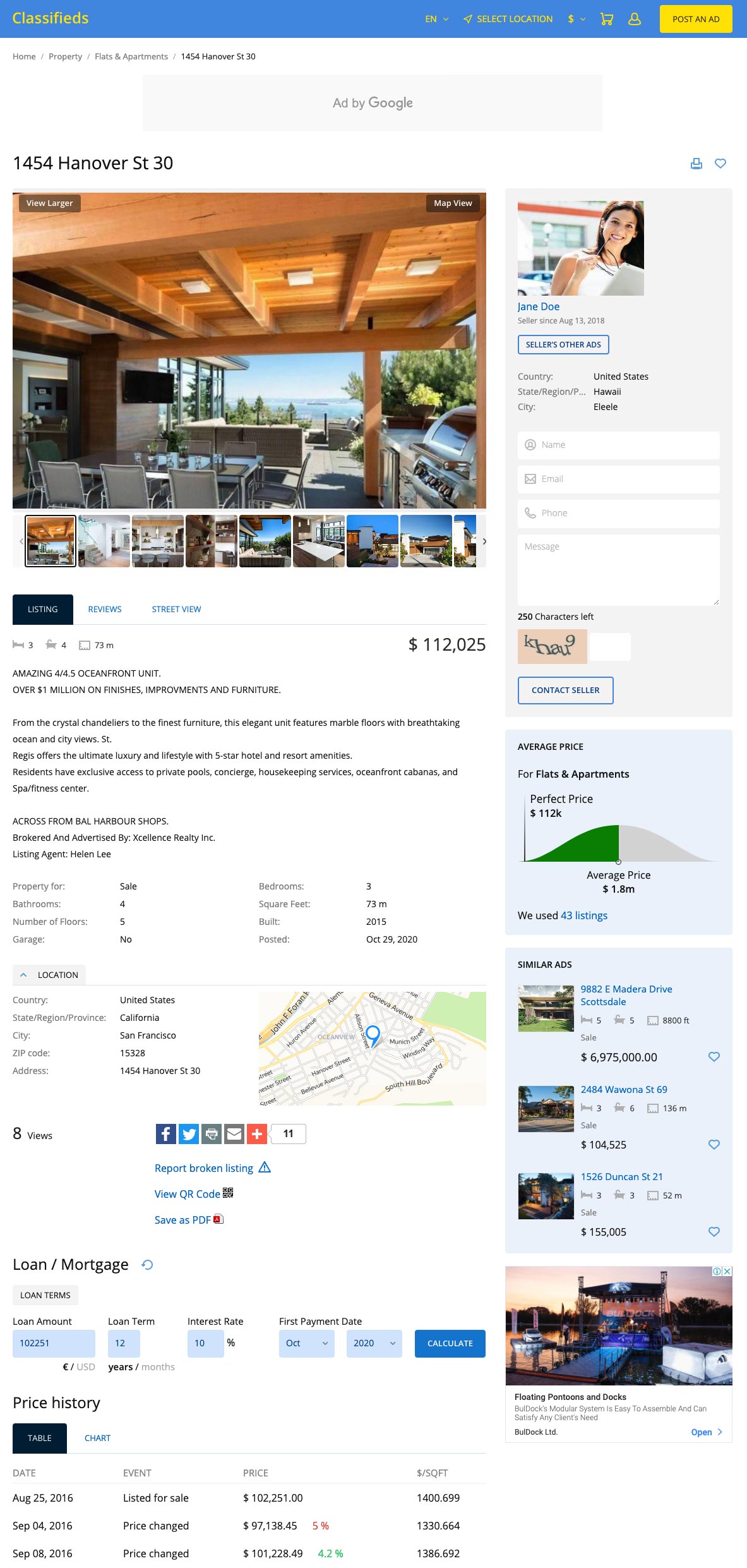 Our ad details page looks very similar to OLX, honestly, all ad details page look more or less the same; however, we offer over 80+ plugins, which you may enable on the page and offer your users extended functionality.
Footer and useful information
The OLX clone theme footer is very functional and offers a lot of useful space for adding content to your website. Footer is the place where you may add links to useful pages, as well as place a subscription box for your users to subscribe to newsletters. Footer is also a perfect spot to place links to native mobile apps, if your website offers them. As an option, you may also enhance the footer by a "useful info" section, which you may place right above it.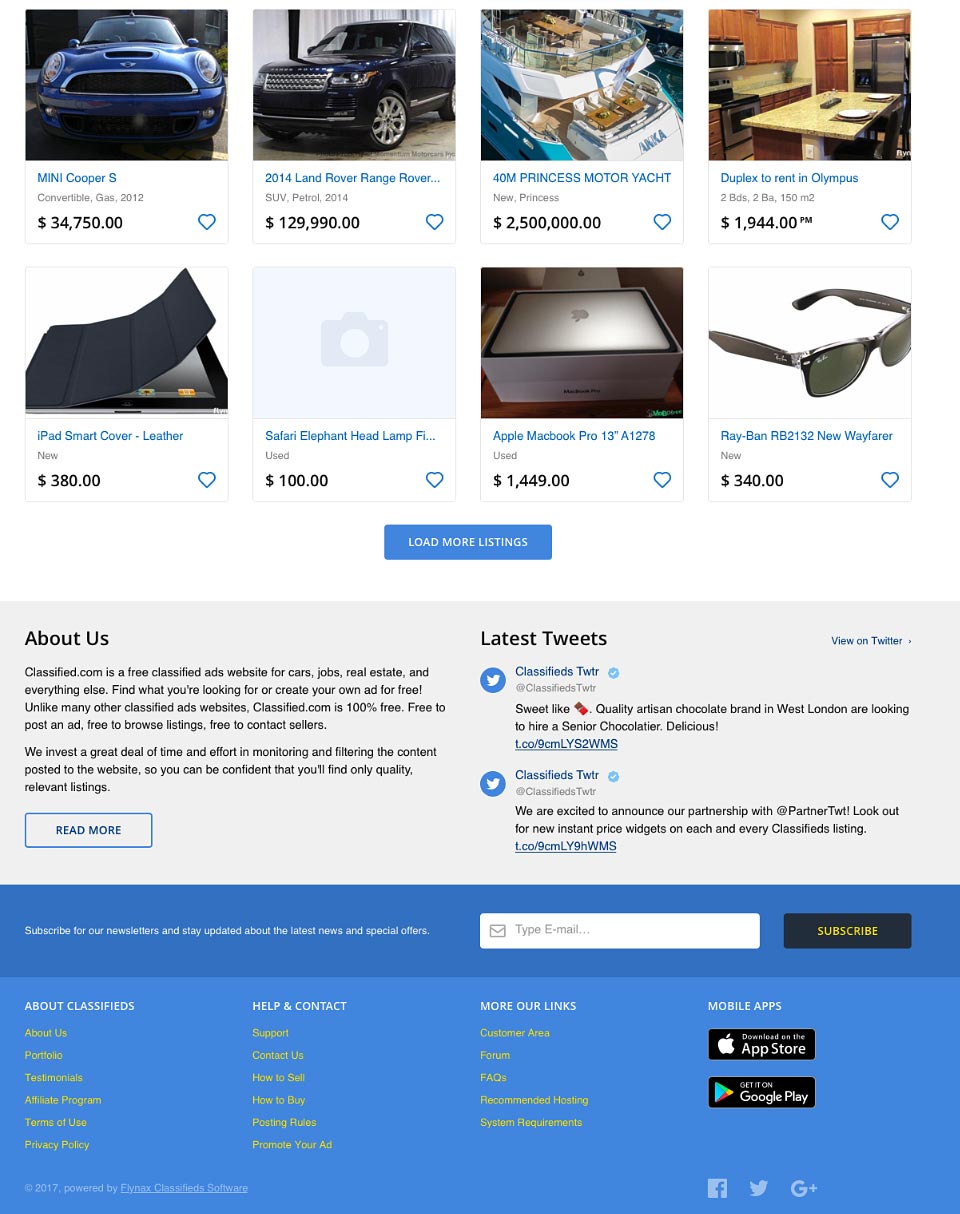 The useful info section is the area where you may place some "about us" content packed with SEO keywords. You may also add latest tweets or any other information that you think may be relevant to your users. Keep in mind that the helpful info section is entirely optional and you may disable it from admin panel.
More than just a clone
When Flynax was tasked with creating an OLX clone script, we wanted to make sure that our clone will not simply mirror the OLX, we wanted to set our OLX theme apart, make it different in some ways and make it better by adding our script's extensive functionality to it. As a result, we have a full-fledged OLX clone that you may use for your website, but we would like to think that it is more than just a clone – it is a tool that may bring success to your classifieds site and breathe life into your ideas.