Real Estate has always been and still remains a profitable business. People, companies, large corporations are always in the market for homes, office space, trading areas and various types of real estate. If you have set your mind on the real estate and wish to start a website for property listings, you have definitely made the right choice.
What is the budget?
Probably the first question you are asking yourself is how much money you need to get started. Of course, starting an offline business with an office is out of the scope of this post. Here, we will consider starting an online business, which is affordable to far more people. Our script costs $195. We assure you that having around $250 is enough to get started; all you need is a domain name, a hosting, and our script. If you have an extra hundred, we'd suggest you add premium real-estate themes to your purchase.
With time, your website will grow and bring steady income, and you may use it to further develop your website and enhance it with premium plugins, native mobile apps or spend some of your earnings for advertising and attracting more people. What's important is that our script allows you to start your business with as little as $200 – $300, which would be impossible with an offline business.
Choose your area
if you think that real estate is a business that many have already chosen and you won't be able to compete with well-established businesses, you are wrong. Firstly, there are various types of real estate, you may open a website for selling residential property, apartments and houses, or choose an area for selling office spaces, commercial or industrial facilities.
There is also a great market for land and land lots. Even if there are many competitors, you may always find your niche, for example, vacation rentals or holiday homes, and this will attract a specific audience who will know that they will find what they are looking for on your website.
Real Estate Script
To run a successful website, you need a powerful script that will offer the functionality required to run a real-estate business. We offer you a real-estate script that will help you implement your idea and jumpstart your business. Our script has been around for many years and has been tried and tested on hundreds of real-estate sites around the world. It offers all the functionality that you will need for your site, and even more with extra plugins.
What you can do with our script
An exclusive website for a real-estate agency and its property listings;
A website with independent dealers who may post their property ads;
A mixed-scenario for a website uniting both agencies and private dealers;
Different account types for buyers and dealers;
If you decide to open a website for an agency or private agents, our script offers extended functionality that allows agents to:
configure their agent profiles;
upload a company logo;
post all of agent's ads on a subdomain,

like www.james-smith.yourdomain.com

;
have an agent's profile with a contact form;
send and receive messages from buyers;
add a gallery of photos/videos to property listings;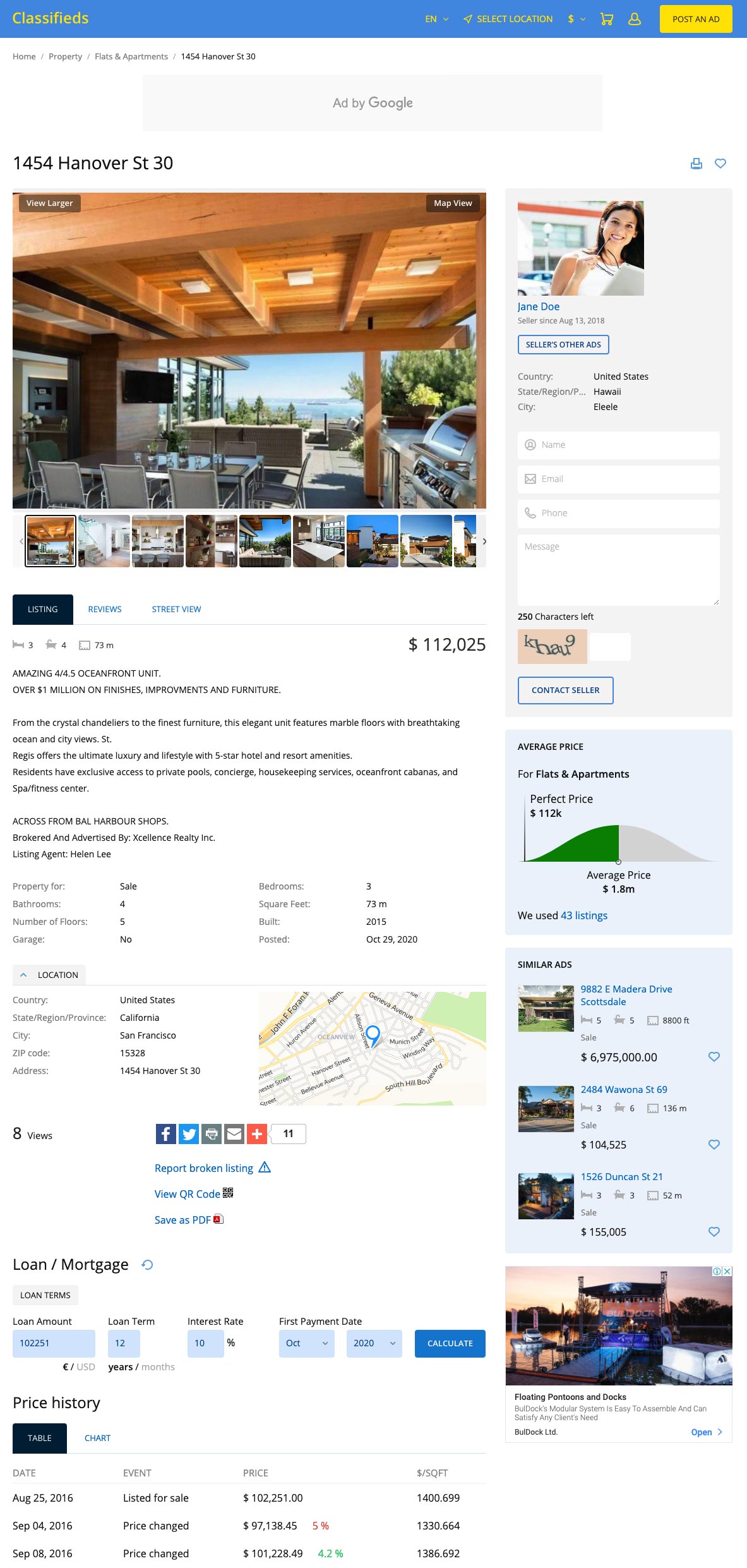 We have made our script user-friendly for buyers. They may search for ads, view property listings on a map close to their location.
There is an ability for users to add listings to favorites and even save search results. The core functionality of the script takes care of most required and used features; however, if this is not enough, you may enhance the script with plugins.
Enhance functionality with plugins
Our script offers over 80 plugins, 42 of which are free and may be used to enhance the script functionality. For a real-estate website, you may consider our free Street View plugin, which allows taking a virtual 3-d walk around the property on sale.
There is also a filter plugin allowing to filter the ads by different parameters. Users may also search for properties by distance from a specific location, view similar properties or have the ability to return to recently-viewed ads. To help users navigate across similar listings, we offer a compare properties plugin, which allows users to add different properties to a comparison table and quickly compare them by different parameters.
Populating your site with property listings
If you have a database of property listings, you may easily import it via a CSV/XLS listing import plugin. The plugin will allow you to fill your website with ads in a matter of minutes. Furthermore, the plugin may also be used by agents to integrate their database of ads into your website.
Our script also supports IDX feed, which allows importing property listings to your website via MLS (Multiple Listing Service). The MLS feeds are provided by different companies and you may choose to connect your website to their databases.
We have other plugins, which may speed up the process of exporting/importing ads, categories, fields, and different types of data relating to property listings.
How we will support you
After purchase, you get 1 month of free technical support. Our team may also install the script on your server and answer all the questions you may have regarding configuring the script and its settings. If you have custom functionality in mind, our team may implement custom modifications and integrate them into the script for a reasonable fee. You may rest assured that you may always reach out to us any time. Besides, you are also getting a script that is constantly improving, with new updates released at least three times per year.
If you have decided to start a site for property listings, we believe that our script is the right choice.